Can You Stream WindowSight in Your Business?
Licensing Guide | WindowSight Business Account
In a world where ambiance and atmosphere play a crucial role in business success, the question of whether you can legally stream art and photography in your establishment arises. WindowSight, known for its captivating art streaming platform, offers a unique experience for businesses seeking to transform their spaces through visual art. However, before you hit that play button, let's explore the intricacies of streaming WindowSight in your business.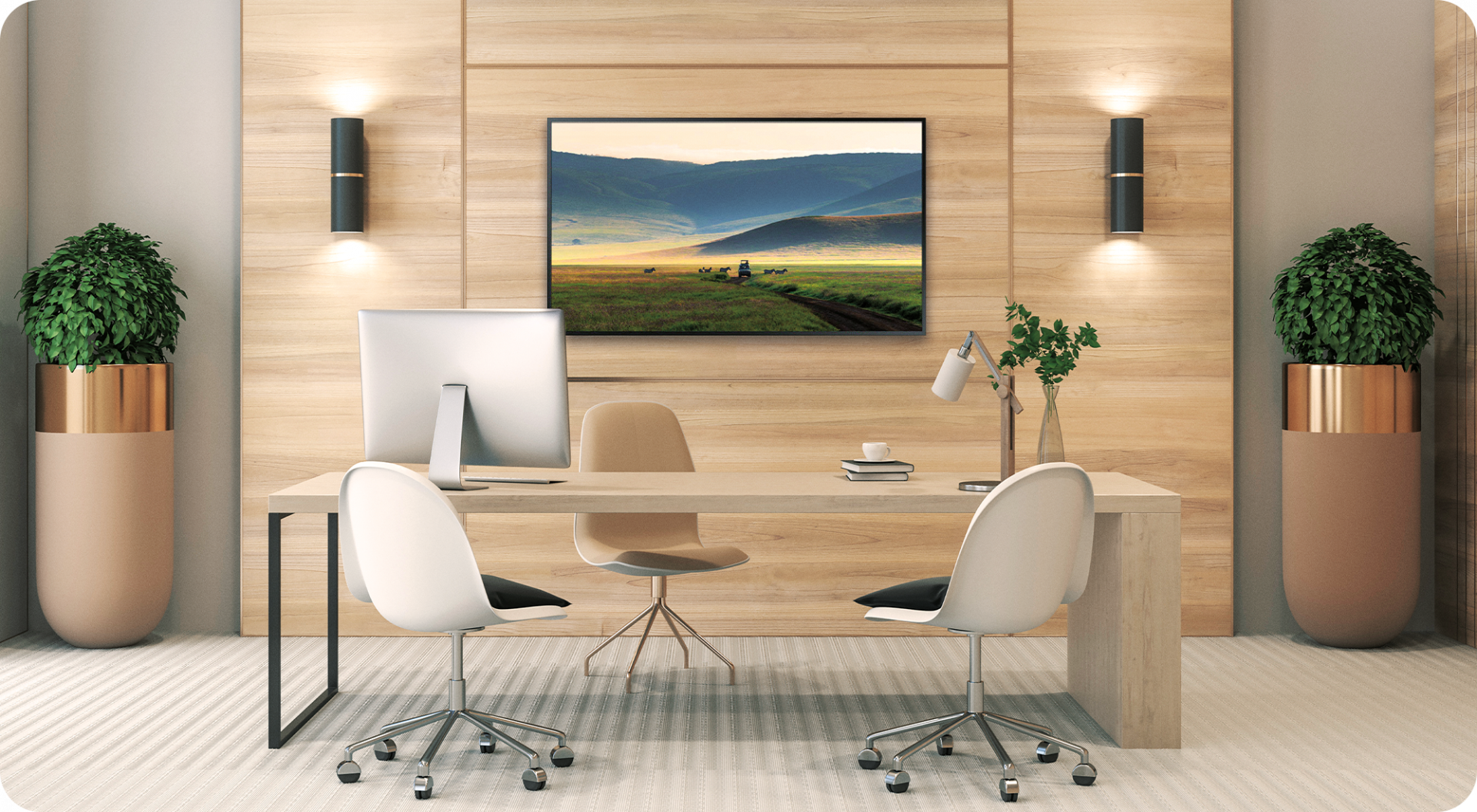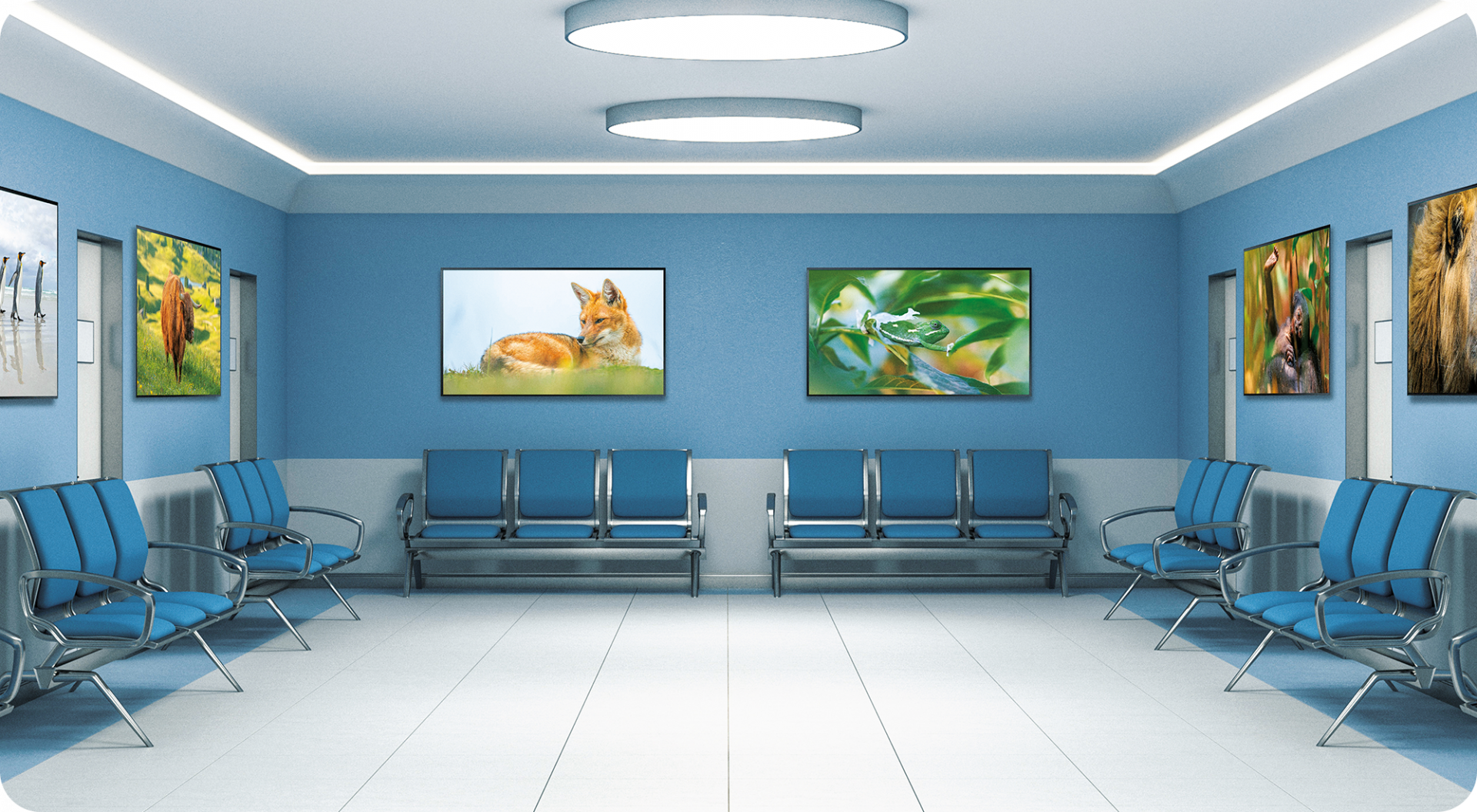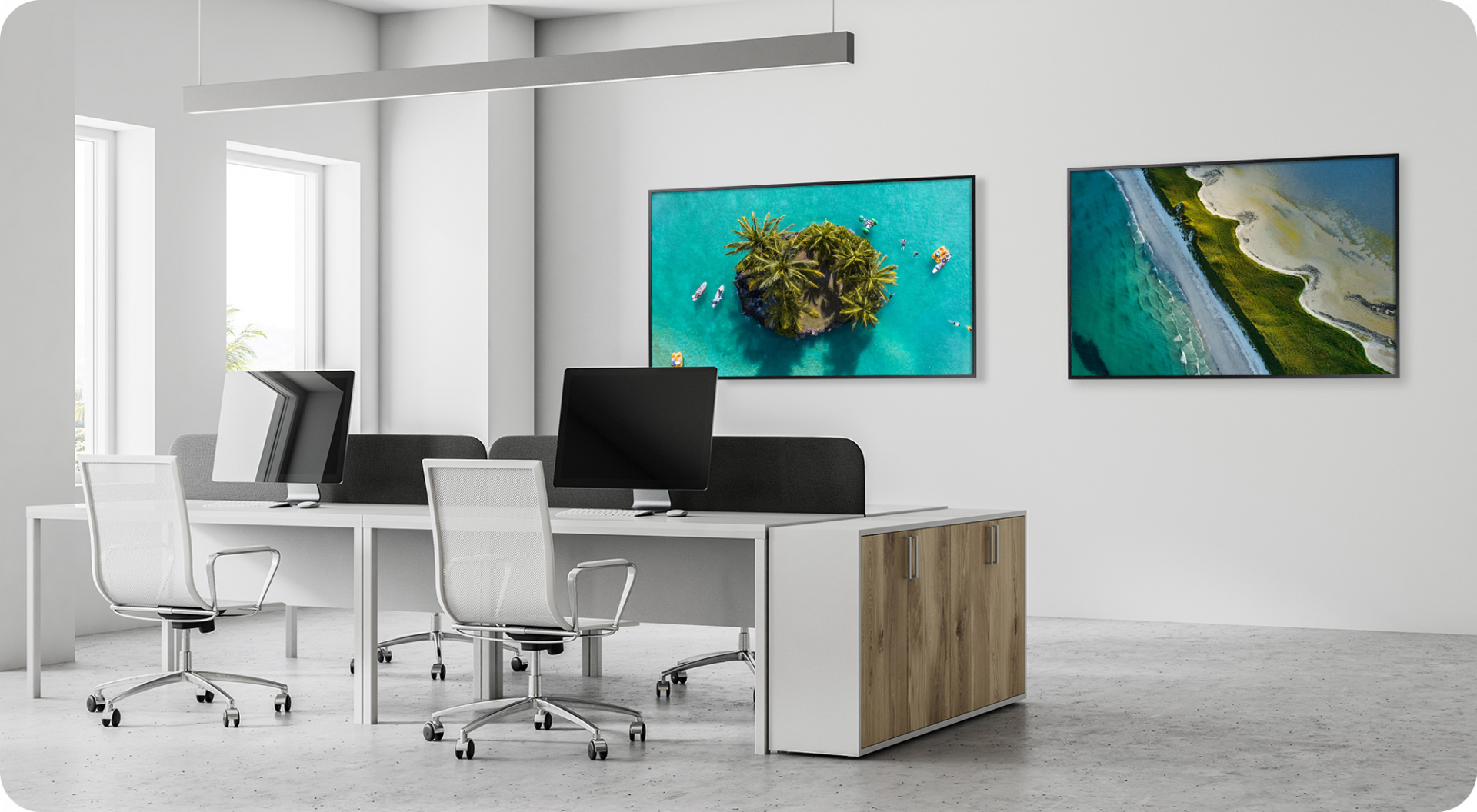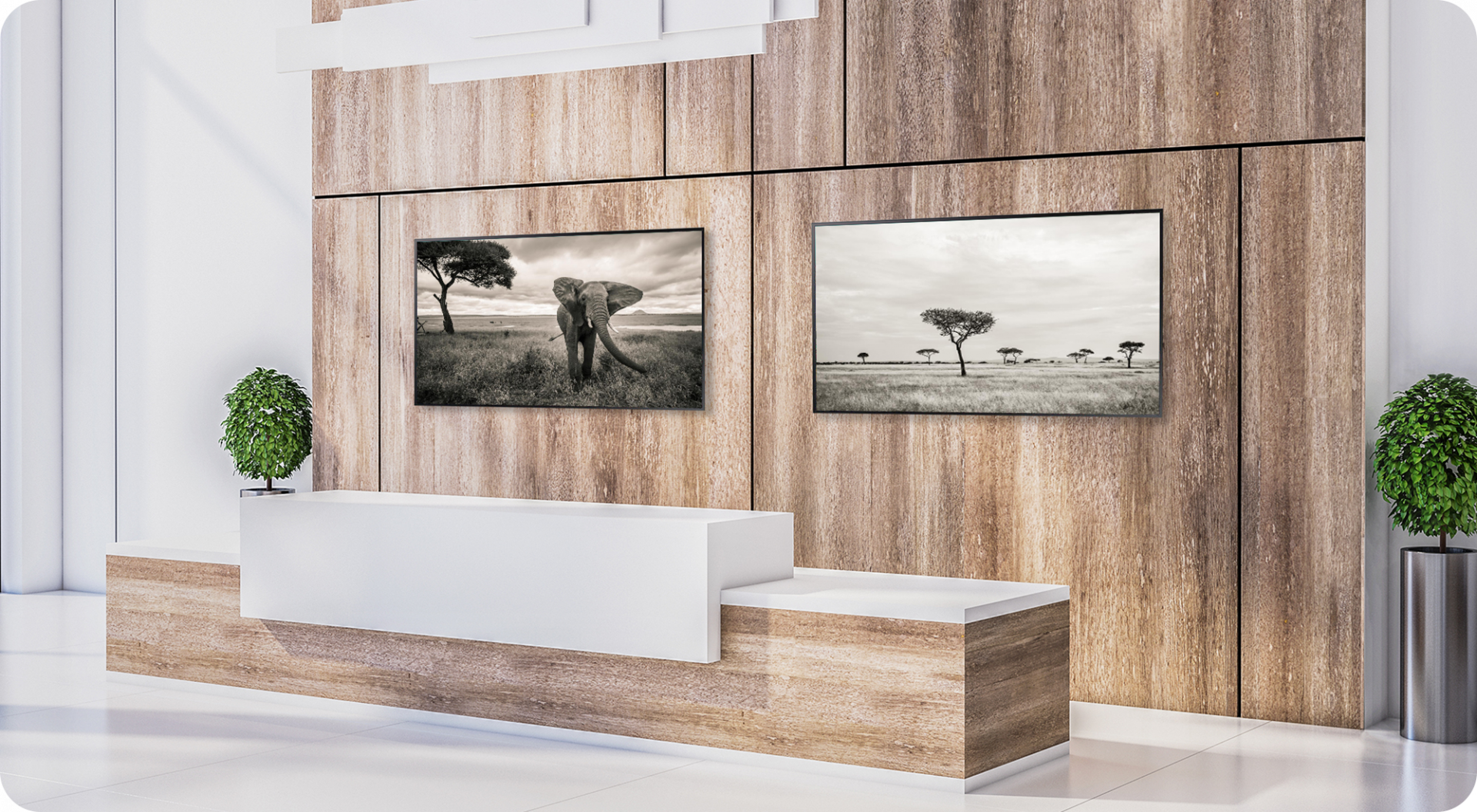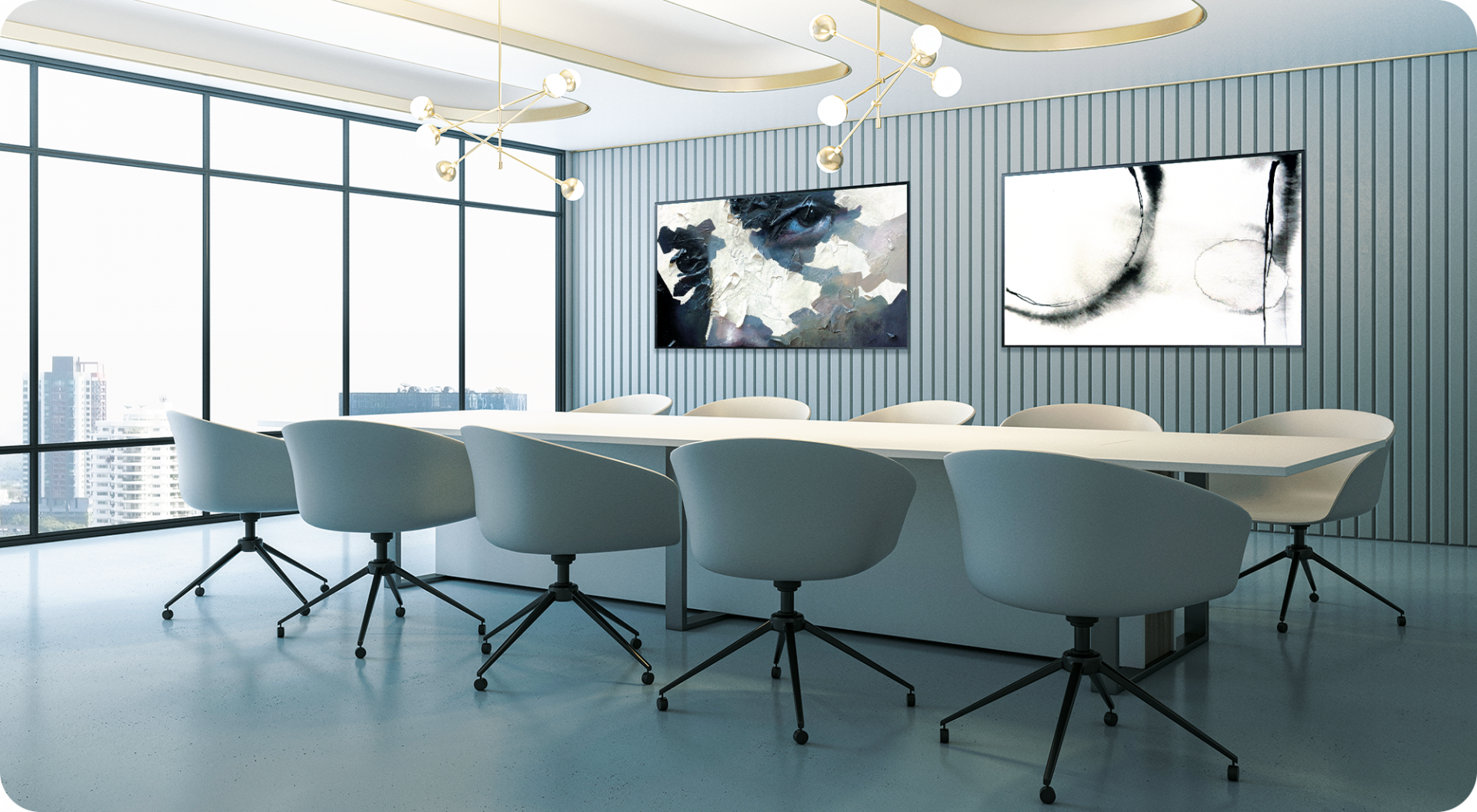 Various locations presenting streamed artworks through WindowSight Business Account.
Much like the situation with music streaming services, streaming WindowSight in your business isn't just a matter of terms and conditions; it's a question of legality. As a business owner, using your personal WindowSight Account to create ambiance or set moods in your establishment breaches both WindowSight's terms and conditions and copyright laws.
This legal aspect is not to be taken lightly. Copyright laws, such as the U.S. Copyright Act, Canada's Copyright Act, and the EU Copyright Directive, are in place to govern how art can be used in private and business settings. When streaming the art hosted in the WindowSight platform for commercial purposes in your business, it's necessary to have a Business subscription to avoid troubles that cover all legal conditions.
In essence, it's illegal to use your personal WindowSight Account for commercial art streaming in public places like restaurants, offices, stores, schools, hotels and more. WindowSight Personal Accounts It is only intended for recreation and personal use where there is no business or economical value associated. 
Different licenses are required for commercial and non-commercial use. A WindowSight Business Account includes all the necessary licenses for legal commercial use of all the platform content. Since these licenses involve the public communication rights of artists' work, and businesses can economically benefit from it, the price for commercial licenses is higher than personal use as it reflects fair compensation for creators.
The legal fallout of copyright infringement
What happens if your business is caught streaming WindowSight without the proper licenses? The consequences can be severe, regardless of the size of your business. Large companies, as well as small businesses, have faced lawsuits and fines running into the millions for streaming art without the right licenses.
Infringing on copyright laws can lead to significant damages, as defined by 17 U.S.C. 504. Copyright owners have the right to recover actual damages or profits resulting from the unauthorized use of art. Statutory damages, ranging from $750 to $30,000 per artwork peruse, can apply unless the infringement is considered willful. Willful infringement can lead to an increase in statutory damages, up to $150,000, and may also involve covering attorney's fees.
Copyright infringement cases
Forever 21 vs. Various Artists
In 2017, Forever 21 faced copyright infringement lawsuits from independent artists and art companies due to their unauthorized use of designs on clothing and accessories. This legal battle led to significant legal expenses and the potential for substantial fines and damages. Eventually, settlements were reached, requiring substantial payouts to the artists. This case emphasizes the crucial need for obtaining proper licenses and permissions to avoid expensive legal disputes and financial repercussions.
Artist Daniel Morel vs. Agence France-Presse (AFP) and Getty Images 
In 2010, photographer Daniel Morel took legal action against Agence France-Presse (AFP) and Getty Images, accusing them of copyright infringement related to his powerful photographs capturing the aftermath of the 2010 Haiti earthquake. Despite Morel sharing these images on Twitter, AFP and Getty Images distributed and sold them to various news outlets, falsely attributing them as "AFP/Getty Images." The court's 2013 ruling favored Daniel Morel, emphasizing that AFP and Getty Images had willfully violated his copyrights.
"The jury awarded Morel $303,889.77 in actual damages and infringers' profits and $1.2 million in statutory damages" Presse v. Morel, 10-cv-2730 (AJN), (S.D.N.Y. Aug. 13, 2014) 
The impact on artists and creators
Artists and creators depend on the income generated from the sale, streaming, and performance of their art. Streaming their art in a commercial setting, such as a business creating a specific atmosphere or entertaining customers, can result in significantly higher income for these artists. This is why licensed art streaming services for businesses often cost slightly more than streaming services for private use.
By not using a commercial streaming service like the WindowSight Business Account, which properly tracks and compensates artists and creators, businesses inadvertently harm these individuals financially. It's crucial to recognize the importance of supporting artists and ensuring they receive fair compensation for their work.
With a Business Account, 50% of your subscription goes directly to the artists you choose to stream. 


Why licensing matters for businesses
Legal Peace of Mind
When you subscribe to WindowSight's Business plan, you gain access to a treasure trove of artwork that is legally sound. No need to worry about copyright issues or intellectual property disputes – our licensing agreements ensure everything is above board.


Protection from Copyright Issues
Copyright issues can have severe consequences for businesses. Unauthorized use of copyrighted materials can lead to expensive lawsuits and damage your brand's reputation. With WindowSight's licensing authorization and correct use of it, you eliminate the risk of copyright infringement, ensuring that your art streaming activities are fully compliant with intellectual property regulations.


Versatility in Creating Ambiances
Licensing offers businesses the flexibility to use artworks exclusively for streaming on WindowSight streaming needs. This versatility enables you to use art effectively to enhance your brand's atmosphere without need it to print anything, allowing you to create captivating and diverse atmospheres. Whether you're enhancing your office decor, crafting an inviting ambiance in your establishment, or simply curating a unique mood, WindowSight's licensing options are designed to meet your specific streaming needs.


Elevating Your Brand
Art has the power to evoke emotions, convey messages, and leave a lasting impression. By carefully selecting and licensing artwork that aligns with your brand's values and objectives, you can enhance your brand's image and create a unique identity that sets you apart from the competition. Your customers will appreciate the thought and effort you put into curating your space.


Freshness and Uniqueness
Businesses need to stay dynamic and engage their audience continuously. Regularly updating your visual content with new licensed photography hosted in the WindowSight platform that keeps your audience engaged and your brand looking fresh. The platform makes it easy to switch things up, allowing you to adapt to changing trends and seasons effortlessly.
Five benefits of the WindowSight Business Account
Opting for a business-oriented streaming service provides numerous advantages when compared to using other online platforms for art and photography, or simply downloading images from the Internet to use as wallpapers or screensavers.
Easy Access to Curated Content: The WindowSight Business Account grants you access to over 12,000 high-quality artworks from around the world. Say goodbye to long hours spent searching for images online or worrying about their usage rights and simply enjoy updated content every week.


Scheduled Playlists: WindowSight schedule playlists to match the need of your business throughout the day, week, or month. This scheduling capability enables you to focus on running your business while providing the right ambiance for your customers and employees.


Remote Control: You can manage what's playing from anywhere, ensuring that your business's art streaming remains on-brand and aligned with your customer experience, even when you're off-site.


Empowering Staff: Business-oriented streaming services empower your staff to respond to changing traffic and noise levels within your establishment. They can adjust the playlists, select approved, and recommended playlists, and ensure the right art atmosphere.


Recommended Content: Prevent explicit content and allow you to block individual artworks that don't fit your brand's image, giving you control over the content your customers experience.


In essence, choosing a business-oriented streaming service provides you with the confidence, control, and compliance needed to create the perfect artistic ambiance for your business.
To learn more, read our blog about 7 Benefits of Visual Art and Photography in Healthcare.
In conclusion, WindowSight ensures that you not only have access to licensed worldwide artworks but also that these artworks are cleared for public communication in your business. This compliance is essential to maintain a positive reputation and avoid legal complications.
WindowSight provides legal protection, supports ethical art usage, offers versatility, enhances brand image, ensures compliance with intellectual property laws, and enables businesses to stay fresh and engaging. With WindowSight's licensing options, you're not just streaming art; you're creating a legal, immersive, and memorable experience for your customers or clients.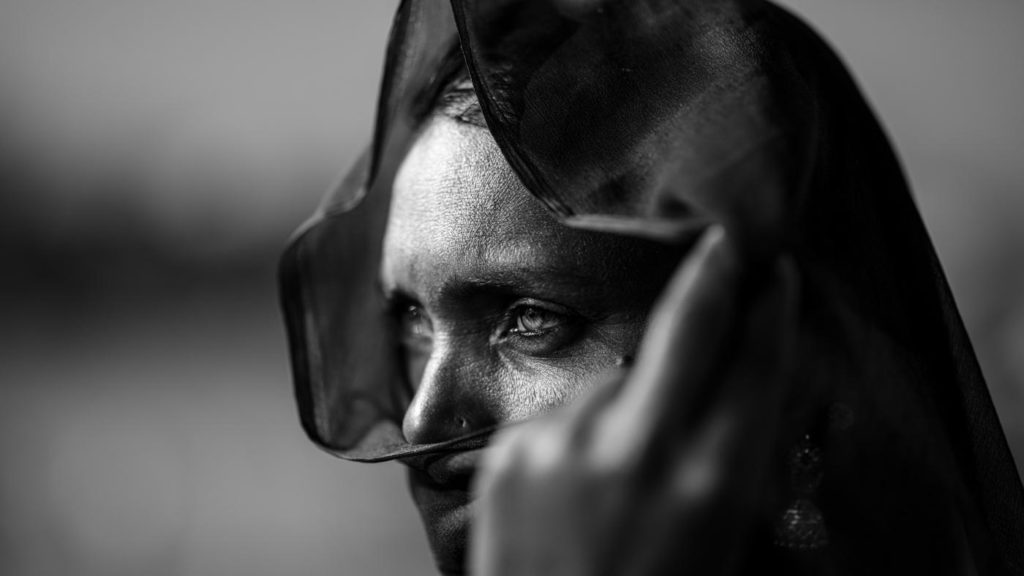 Photography by Hugo Santarem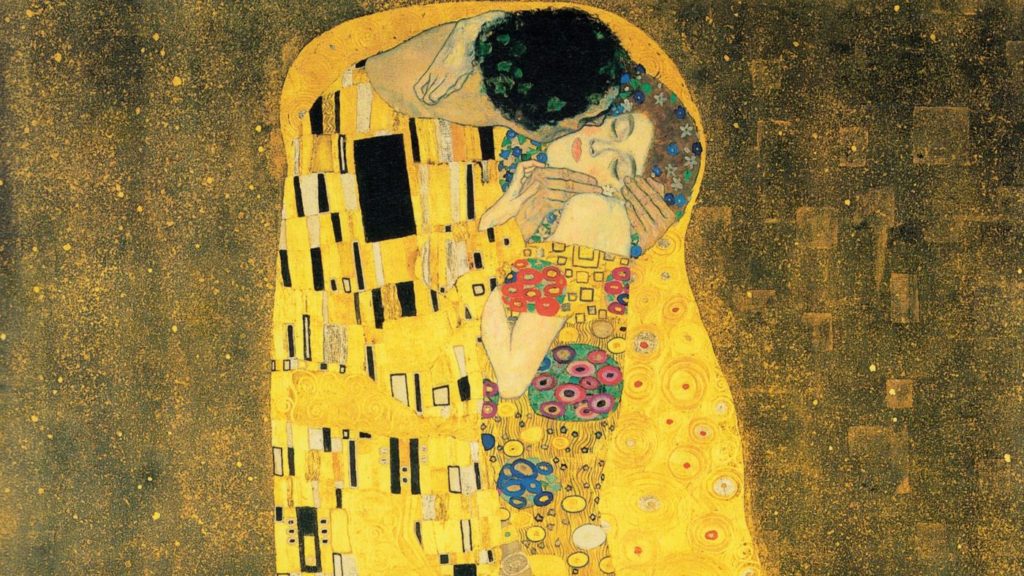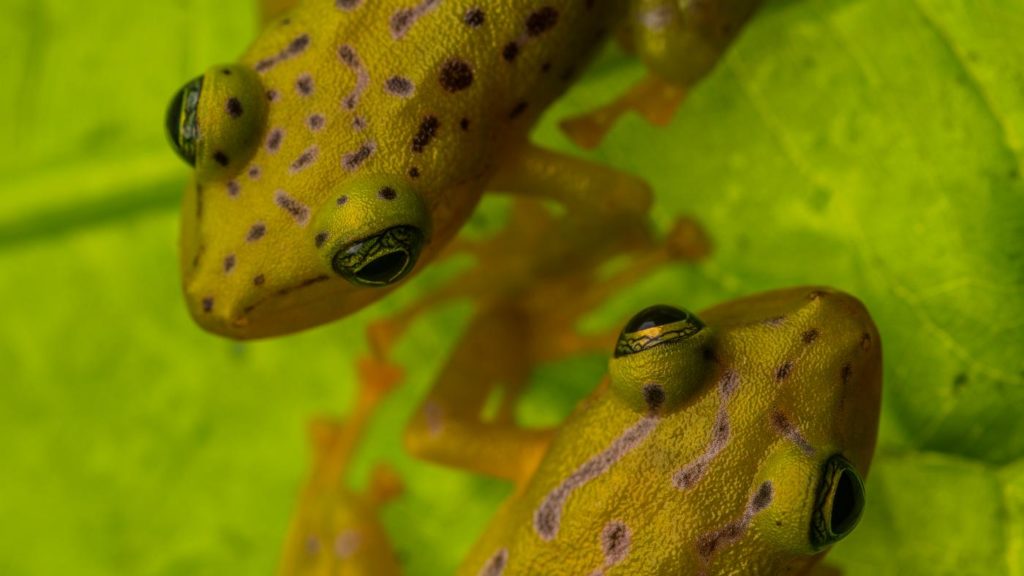 Photography by Javier Aznar Gonzalez de Rueda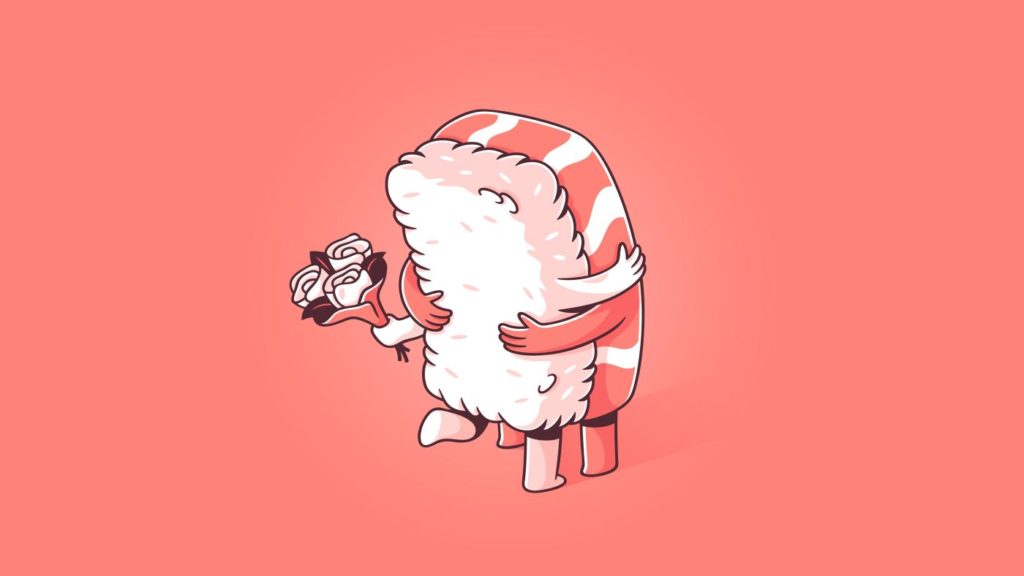 Illustration by Elia Colombo
Ready to Elevate Your Business?
Start your art streaming journey with a WindowSight Business Account and witness the transformative power of art in your business.
Contact us today to learn more about our exclusive licensing options, and let us help you create an unforgettable atmosphere for your business. Elevate your brand with WindowSight.