7 Benefits of Visual Art and Photography in Healthcare
– If you had to spend one hour in a waiting room, which one would make you feel better: the one with empty white walls or the one with the walls enhanced by by vibrant digital canvases?
Art has always been a medium for expression, interaction and promotion of social, behavioral, psychological and physiological health. 
A 2010 study report indicates that almost half of the U.S. healthcare institutions have recognized the healing effects of art and over time have adopted art programs in their premises. When they were asked "why", these were the high-ranked reasons: to benefit patients, patients' families and healthcare staff, help patients and families deal with illness and psycho/social recovery, build community relations and contribute to a healing environment. 

Digging a bit deeper, here is what visual art and photography in healthcare facilities can do:
1. Break the white-painted monotony
White color in healthcare facilities is associated with purity and cleanliness. However, the monotony caused by the lack of visual stimuli makes it harder for healthcare staff and patients to take their minds off their stress. Art and photography installations in healthcare premises nourish the human brain and ease anxiety levels and attitude toward hospitalization. Displaying various nature motionscape and photography content breaks the dull tones daily, offering a simultaneous travel-like feeling and an appealing lure to attract and retain new visitors. At the same time, such installations create a virtual window to nature's beauty, especially in facilities where the infrastructure or location doesn't allow for creating natural green gardens or a pleasant window view (though some biophilic touches in the interior are always feasible).
2. Prevent waiting time boredom and stress
The average waiting time in the U.S. is approx. 20', while 30% of the patients have even dropped the appointment. In addition, this time is perceived longer than in reality, which gives them enough margins to magnify their nervousness and melancholy, making it more difficult for themselves and the workers to handle. To better comprehend patients' pre-appointment emotions, we personally interviewed 50 of them: almost all of them feel bored, stressed, impatient and – in many cases – irritated, seeking alternative ways to distract themselves. The longer the waiting time the greater these emotions. Aesthetic installations of diverse visual art and photography help fill the waiting time's void and boredom, offering a fruitful pre-appointment session to pass their time, spark their interest and get entertained.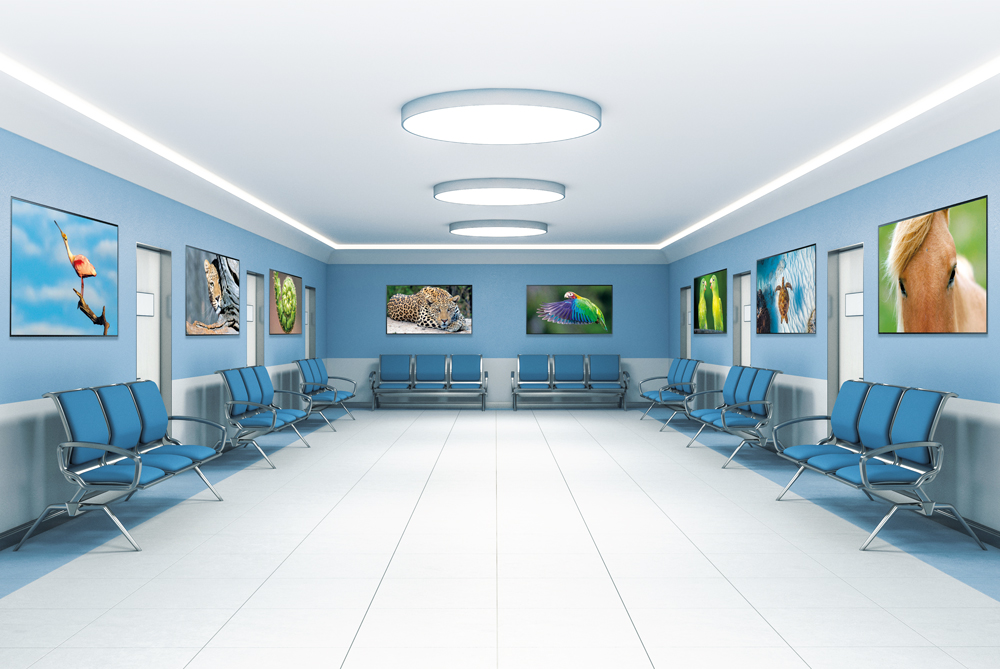 Photography by Bill Gozansky | Featured in "Wildlife Day" Playlist by WindowSight
3. Induce social interaction and connection
An ever-changing artful environment provides endless possibilities to grab the attention of both the patients and the people accompanying them (family members, friends, etc.). Our case study with the Arquer Institute in Barcelona has shown that the content being displayed on the clinic's TV screen was a great conversation starter. A simple question such as "Where do you think this place is located?" or "What do you think about this artwork?" can trigger longer intellectual chats amongst individuals. During social interaction, endorphins and other hormones related to bonding can be released, capable of building stronger connections between a caregiver and a patient, creating a more welcoming environment that will promote emotional safety and smoothen the perceived pain and healing process.
"Offering relaxing images in the waiting area to our patients has improved their experience a lot and we've noticed they are less stressed when having to wait longer than expected for their appointment." — said Berta Arquer, Manager and Receptionist at the Arquer Institute, during our case study
4. Encourage self-expression
Artists and photographers express their emotions through their creations to visually communicate with the world. A variety of visual art and photography content channeled throughout healthcare premises' walls offers patients, visitors and medical staff visual references to find themselves connected to the creators behind the nuances and their stories, through observation and education. In addition, it helps them to better express their own concerns and pain points, enhancing – among other things – the doctor-patient communication and the recovery process.
5. Increase caregivers' morale and retention
Working in the healthcare industry is considered the 2nd most stressful occupation. Nurse turnover rates are rising annually, leading to tremendous costs in the health sector. Work-related stress due to the demanding nature of the occupational field can overwhelm and exhaust them. It should not come as a surprise that the well-being of caregivers requires just as much attention as one of the patients. Yet, the workers' needs tend to be overlooked in a busy routine. Motivating artful surroundings offer brief emotional breaks, ease their stress, enhance their relationships with patients, reduce medical errors and lastly increase satisfaction and retention.
6. Attract and retain visitors
Businesses with a cultural background that support and promote either local or international artists and photographers tend to attract and retain new visitors. Healthcare facilities are no exception. The experience starts from the moment a visitor steps into the institution, from the welcoming attitude of the medical receptionist to an inviting environment – halls, receptions, doctor's rooms, waiting areas – that aligns with the facility's culture. The first impression matters to new customers, who will seek to first build further trust before they choose to commit to a service. Surroundings filled with changing art and photography will cater to a better and more memorable first experience and stimulus that will differ with every new visit.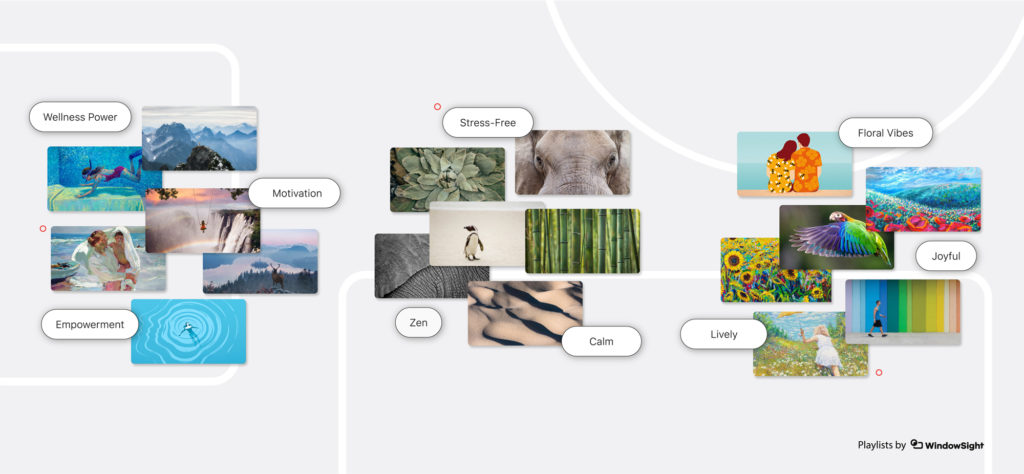 Photography & Artworks by Tim Plowden, Bill Gozansky, Vicent Van Gogh, Kyle Huber, Joey Guidone, and Iris Scott
7. Eventually, help reduce healthcare costs
Fostering an artful and customizable environment in healthcare helps facilitate the workers' efforts to reduce spiraling costs (Randy Cohen, 2020). The patient and staff satisfaction provoked by visually appealing art and photography and its benefits will result in more effective facilities which will promote well-being, gradually reducing nurse turnover and – in some cases – the medication usage and hospitalization duration of the patients. The findings suggest that investment in visual art and photography can bring an alternative ROI in the medical field.
"Art is the lesser sister to medicine. It aims to heal."
– Andrew Lam
It is an alternative tool to enhance medical procedures and ensure stress-free environments. Professionals in the healthcare and art industries can start cooperating even more closely to improve people's well-being in various facilities – hospitals, clinics, mental health institutions, surgical centers, elderly homes and more – and shape health-promoting communities.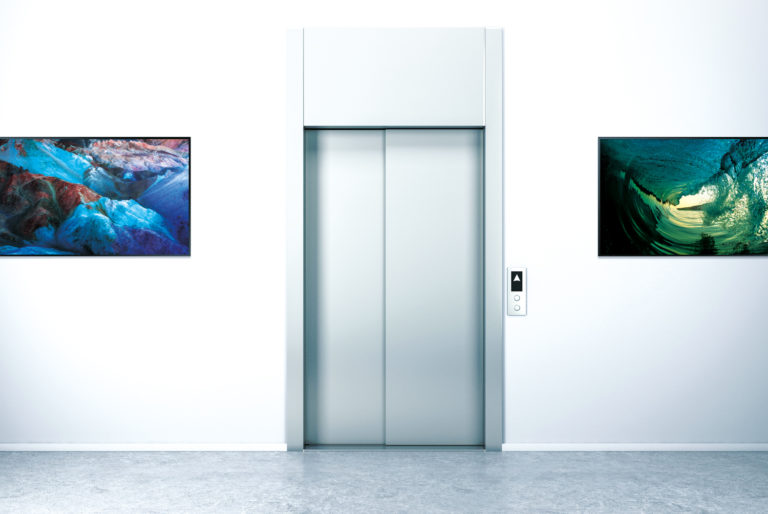 Common Spaces
Photography by Russell Ord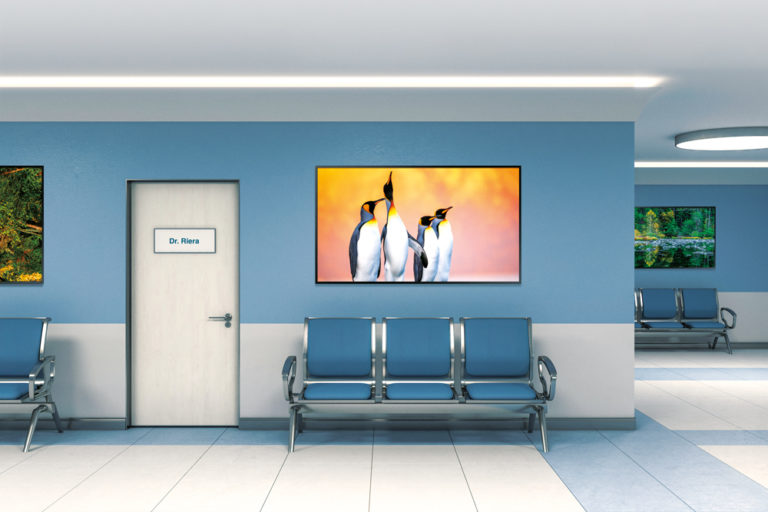 Waiting Areas
Photography by Andrew Peacock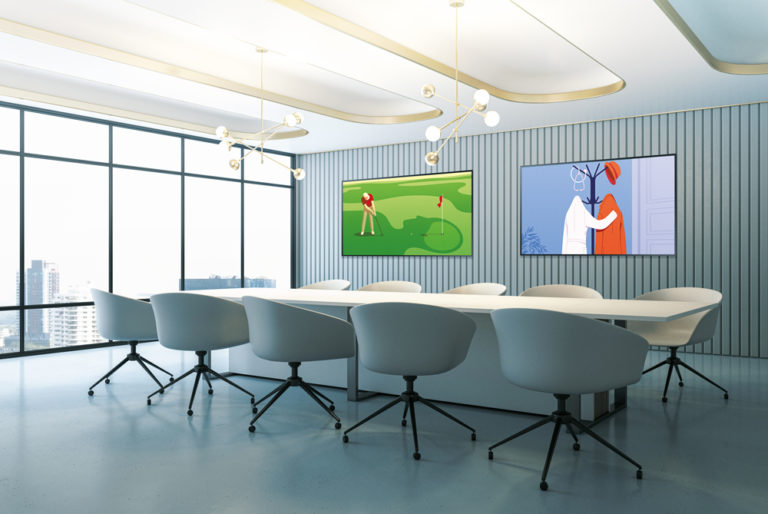 Meeting Rooms
Illustration by Joey Guidone

The WindowSight team is committed to helping healthcare professionals connect people with the healing effects of art and photography. Our curatorship team can help curate content tailored to fit every facility's needs and create memorable experiences channeled through digital displays. If you want to know more about it you can let us know through this form. We would be happy to hear from you!