When Classical Art Meets Technology
– A new era of timeless-artworks digitization
On Leonardo Da Vinci's birthday anniversary and World Art Day, WindowSight couldn't do less than pay tribute to great Classical Artists and the contribution they have left behind their lime traces. We introduced Artists from the whole Art History itinerary and artworks-landmarks that never get old.
The parallelism of the old and the new era
The Renaissance was a very important period in humanity. It was the rise of a totally new world in art, literature, poetry and architecture among other social issues. Described by "humanism", it was a period of time when human beings and their intellectual development were the epicentre. Just like Venus was born from a shell showered with flowers (Sandro Botticelli's most famous painting), new ideas, techniques and ways of perceiving things appeared on the surface. It was, undoubtedly, an inspiring and bright period where a lot of artists unfolded their talent and gifted us unique masterpieces.
The reality is that it feels like time travelling, like we are living in two parallel eras. Leonardo Da Vinci once quoted: "To develop a complete mind: Study the science of art; Study the art of science. Learn how to see. Realise that everything connects to everything else". His perspicacity was one of the reasons he was considered to be a towering figure in the Renaissance. And his insightful prophecies are confirmed by how people and technology indeed have evolved, thanks to the "art of science".
"Learn how to see"… Well thought Leonardo! No matter how precious a painting is, it is only gonna extract most of its values once you actually observe it and not only look at it. And with all the means we have today we can enjoy, absorb and espouse all the values and virtues these artists wanted to transmit through their knowledge and experiences.
Leonardo Da Vinci's "Vitruvian Man" at first sight, can often offer us a puzzled look while trying to figure out his clever mindset and decode the painting's deeper meaning, but it always reminds us to challenge our minds! Allegorical depictions, such as Francisco de Goya's "The Sabbath of witches", can inspire us to think way far from the obvious, while, in reality, in the painting the goat doesn't represent a goat, but Satan himself. What you see, is actually not always what you see! Tricky, right? Look once, observe twice, think thrice!
"Whoever wants to know something about me –as an artist which alone is significant– they should look attentively at my pictures and there seek to recognize what I am and what I want."

– Gustav Klimt
Gustav Klimt is a very good example of a figure thinking and expressing far beyond the norms of society's "normality" requests. Among other daring painters, it was his revolutionary and gutsy way of painting that caused controversy and raised a lot of eyebrows, but his posthumous fame, up to this day, echoes way louder than the judgemental voices of those who disapproved of the way he expressed himself. This must be more than encouraging to always let our ideas shine, defying possible vetoes and lack of acceptance!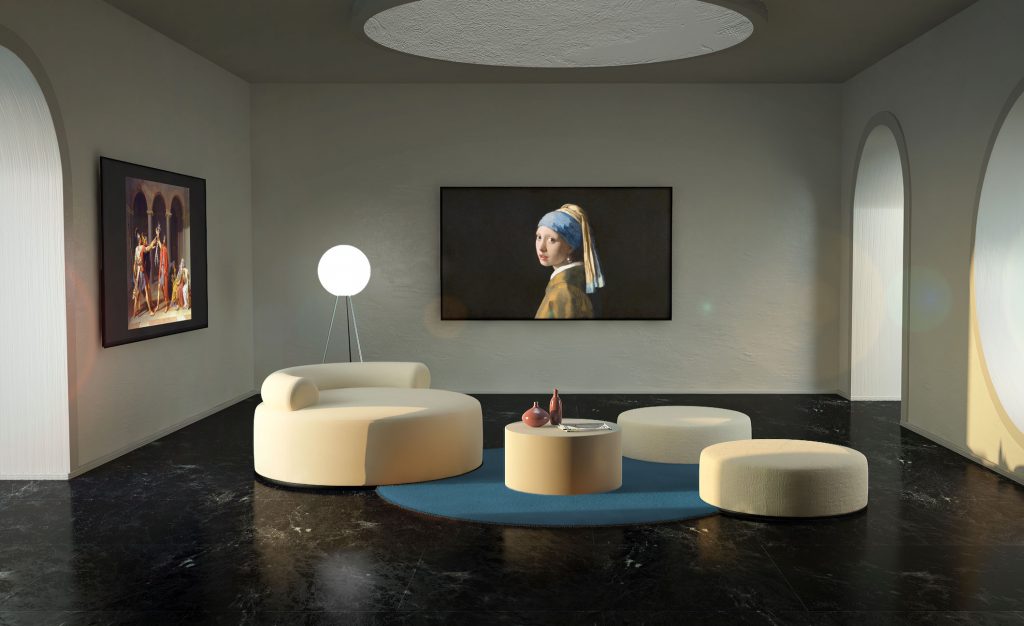 "Oath of Horatii" by Jacques-Louis David and Girl with a Pearl Earring by "Johannes Vermeer"
Classic artworks can now be digitised and streamed on TV screens, thanks to technological science. WindowSight created a hodgepodge of all these special personalities who have put an indelible mark in the world, so that you can enjoy them all together as they deserve to be! And it's amazing how such big value and great importance can fit in just one single application in your phone and TV!
It is remarkable how in times when taking a picture to create memories was not feasible, the artists used their memories and experiences to create "photographs" in their paintings. And while every artwork had its own originality and a second copy would not be the same, digital technology helps reproduce the original artwork without altering its quality and gives easy accessibility to every part of the world. That's what WindowSight does. We connected the past with the present, with the curiosity to see what the future in visual arts will be and what surprises it may hold. Because indeed we "realise that everything connects to everything else"!
So, what's it gonna be? A "Basket of Apples" at your restaurant, to provide an even yummier meal to your clients? "Starry Night Over the Rhone" at your infirmary waiting room, to reflect calmness and positivity? "Mona Lisa" at your office, to intrigue your interest to solve the riddle behind her poker face and provoke communication between the teammates? Or "Roses" in your living room, because you forgot to buy flowers for your vase today?
Whatever your preferences might be, you can explore all the content WindowSight hosts in the platform, reconnect with Classical Artists and stream famous paintings on your screens! Once again, you have the opportunity to create the playlists and queues you want, or choose among the platform's playlists and personalise your space to create an ambiance that best describes your style! We are closely observing how art evolves and blossoms and are always intrigued to host the new and the different, to provide the best artistic journey possible! So get ready, "book your tickets", start streaming and enjoy!